At Jamo Solutions, we are focused on innovation, continuous improvement, and staying ahead of industry trends. Our strict quality rules, the best performance in every detail, and super friendly and reliable customer service are extremely to every member of our team.
We do our best to develop new packaging solutions and exceed our customer's values and needs. All with having in mind the impact on the environment. This is the reason why we offer a wide range of biodegradable and recyclable packaging solutions.
We are very honoured, proud and glad that our efforts have been recognized by awarding organisations and industry leaders.
Our prestigious winning awards

AWARD OF EXCELLENCE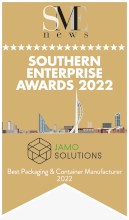 SOUTHERN ENTERPRISE AWARDS 2022
It's not the end… it's just the beginning. We continuously strive to improve our quality in every aspect of our business so more winning awards are on their way! :)