Digital Printing – stand up pouches, side gusset bags, sachets
Jamo Printing supplies bespoke printed packaging helping your company fulfil branding ambitions. Our company provides custom printed flexible packaging materials using digital printing technology. The technique allows providing high quality and durable printing that will make your products eye-catching and pretty recognizable. 
In order to ensure the best printing results, we apply very strict quality control specifications. Each stage of the printing production is carried out very carefully to reassure the best printing results. Our design team use specialized software to transform the artwork provided by the customer into the proper printable version. After final customer approval, we proceed with final production.
Jamo Printing – custom printed packaging
Minimum order quantity
The minimum order quantity (MOQ) is 100 units for an average-sized pouch. 

Lead time
We can deliver your custom printed packaging in 3-5 working days. If you have a tight deadline, please contact us before making an order so we can accommodate. Returning orders - 1-2 working days, depending on time when order was placed.

Multi-colour printing (CMYK)
We print in full colour (CMYK) in the printing area. Choose one of our templates indicating the printing area to create your own project!

Price
The price starts from 20p per pouch (ex. VAT), and is very individual, depending on quantities, printing area, material and type of the pouches.
Contact us (printing@jamosolutions.co.uk) and we will show you all your options and costs, helping to find the most optimised solution for you.
Printing on stand up pouches – need help?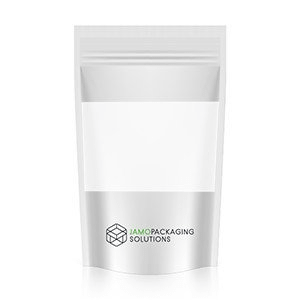 Printing templates with window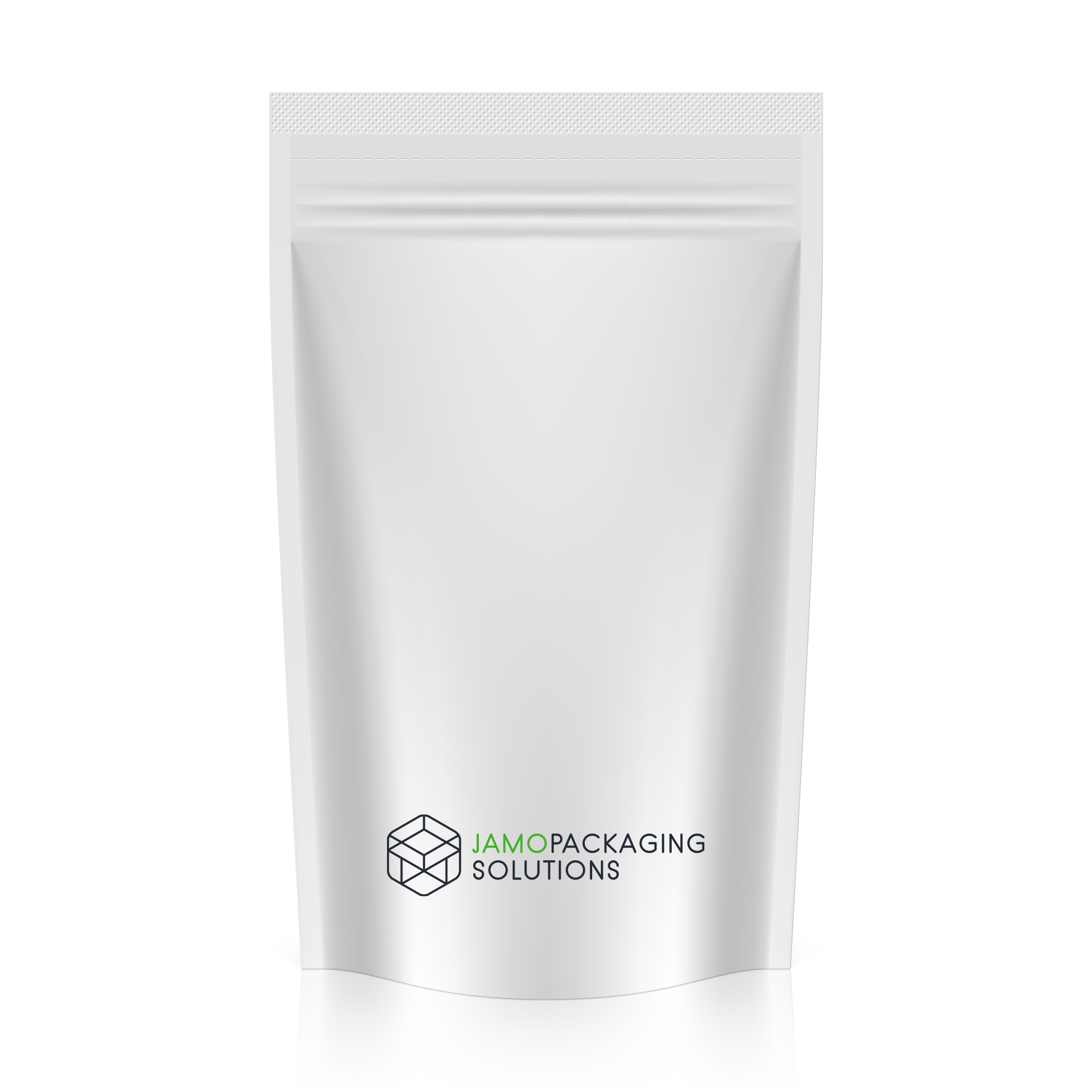 Printing templates without window
Printing on stand up pouches
Printing technology for packaging materials has developed significantly over the past few years. There are a number of different print techniques available to make your product packaging look as eye-catching as possible. 
Depending on the packaging material and required quantity, customers can choose between several printing methods. The mains are silk screen printing, digital printing, flexographic printing, rotogravure printing and lithographic (offset) printing. Choosing the right one makes a big difference to the success of the packaging.
Printing on stand up pouches (especially with zip lock) is a bit tricky. Our experience shows that special digital printers for stan up pouches or screen-printer are the best methods to print on stand-up pouches.
Digital printing vs screen printing
Digital printing is the most popular technique while screen printing is the oldest printing method (around AD 950, China). Everyone knows the digital printing method because it is used by most people in the home environment so there is no need to describe the technique in detail.
The screen printing technique involves creating a stencil on a fine mesh screen and then using a rubber squeegee pressing ink through that stencil to make an imprint of the design on the substrate beneath.
Traditionally, the mesh was crafted from silk thread – that's why this method is also called silk screen printing, silkscreen printing, or silk screening. Nowadays silk has been replaced by polyester fabrics, offering the same performance for a lower price. Apart from silk screen printing, the technique is also known as serigraph printing and serigraphy.
The screen printing technique gives the most durable printing result. Due to its durability, screen printing is a very good printing option for reusable material bags and clothes. Screen printer can be used on almost any surface like paper, plastic, foil, glass, fabric, card, leather, wood, and metal. This printing technique, however, can provide just single- or two-colour graphics. 
The screen printer requires the frame and stencilled mesh to be properly prepared with the artwork. This is the reason why the pre-press process is a very important step before screen printing. The mistake in artwork cannot easily be corrected – the whole stencilled mesh must be done again. 
Comparing to the screen printing technique, digital printing gives you better possibilities with no colour limits (you can design and print your project in full colour – CMYK). Moreover, there are no set-up costs as no frames and stencilled mesh are required. On the one hand, it saves the time needed to create such a framework so the digital printer allows delivering your custom printed packaging quicker. On the other hand, the printing cost is lower. It is especially noticeable with small print runs – you can print with us from just 100 units!
Digital printing on stand up pouches:
- no set-up costs
- full-colour printing (CMYK)
- faster delivery
- lower printing cost
- lower MOQ (printing from just 100 units!)
These are the reasons why we chose the digital printing method to be offered for our customers to print on stand up pouches.
Custom printed flexible packaging with Jamo Printing
We offer plenty of pouches, gusset bags and sachets to be custom printed. You can choose your desired material, colour, size, function (tear notches, press seal zippers) and design to create your own customised flexible packaging that matches your needs. 
Customise your product packaging – build your own brand – excite your all customers!
As a part of our printing services, we will also help you to select the most appropriate type of packaging and material for your product. If stand-up pouches (SUP) are not the proper packaging for your goods, you can always choose sachets or side gusset bags, according to your needs. 
Most of our pouches, bags and sachets can be printed with branding making your product stand out in steadily competitive retail spaces. Our most popular flexible packages, however, are stand-up pouches. They are widely used for edible products (e.g. confectionery, snacks, cereals, tea, coffee, supplements) also retail, screws and nails, chemicals, cosmetics and more.
Custom printed stand up pouches
Why does the top-quality and customised packaging matter?
Perception of your brand by your customers is crucial to your business. Top quality customised packaging, in addition to the product, is the key to success. The proper packaging makes your product recognisable in an ocean of alternative and rival products. It helps you maintain relationships with customers and the potential clients choose your product. Eventually, the packaging can determine the difference between losing market share or driving sales. 
In terms of attracting new clients, the packaging has a crucial and significant role to play. Getting your packaging material, its quality and artwork wrong can be disastrous for your business.
In fact, custom printed flexible packaging is not only a way to protect your products during its way of shipping and transportation process. Increasingly, this is a way of advertising your business, presenting your product, and also increasing brand awareness. Custom printed stand up pouches open up new paths of communication with buyers. Printing on stan up pouches, bags, sachets and other types of flexible packaging is a very effective marketing tool using to convey product information in a consistent branded way.
Custom printed packaging helps you to build your own brand
Competition and such a wide range of products available on the market push companies to ensure that their brand is well-recognised. Custom printed flexible packaging is a very good way to promote the brand and present a professional image to the customers. 
More and more people are looking for simplicity and elegance when comes to choose and trust a new brand. Even a simple one colour logo can attract new customers to your product. It is very important, however, that the packaging and print are top quality and durable. This is the reason why customers choose our services. 
Why stand up pouches are very on-trend packaging?
Stand up pouches (SUP) known also as doypacks become an increasingly popular alternative to traditional packaging, being the perfect solution for shelf display. More and more companies change their traditional product packaging, such as glass jars, metal tins or rigid board packaging (e.g. cardboard cartons) to flexible stand up bags. Doypacks help to reduce packaging waste. Many of the SUPs are recyclable or even compostable. 
They look modern, nice and elegant, and if the stand up packaging is top quality, they can be refilled or reused. Most of stand up bags are more eco-friendly than metal tins. They also help to reduce the amount of space needed for the product to be stored. That also means being cost-effective by reducing storage and transport costs either.
Doypacks are a perfect replacement for cans and jars as they are lighter, flexible and grab customer attention quicker. A built-in zip lock is much more handy than jar closures – it doesn't get lost, and opening and reclosing are simpler for all ages. Moreover, stand up pouches can be transported and stored much easier than rigid packaging. 
The product stays fresh for longer
They are seen as the most versatile and efficient packaging option. Due to their strong barrier properties, good quality stand up pouches are a certain way to protect the products against spoiling factors such as daylight, water vapour, electromagnetic radiation, oxygen and humidity. This feature allows the product to stay fresh for longer.
Thanks to zip lock, doypacks are resealable, and the content remains fresh for days after opening while being kept in their original packaging. Moreover, a tear notch on the top of the pouches allows easy opening. If you need to keep liquids, you can choose stand up pouches with spouts and lids.
Where to use stand up pouches?
Nowadays resealable stand up pouches are the most commonly used type of bag (pouch) for many products (e.g. tea, coffee, herbs, superfood, pet food, nuts and seeds, dry fruit etc.). They are commonly used with edible products, however, they can be also used to store a variety of products such as chemical products, cosmetics, powders, screws and nails. We can say that the applications are endless.